Erosion Control for New Construction and Commercial Work Sites
As required by the Federal Clean Water Act regulations, erosion and sediment control is required on development sites throughout the Kansas City Area. The overall goal of these development requirements are to reduce sedimentation, protect water quality and preserve the capacity of storm sewers, drainage channels, streams, and structures.
The following is a small snapshot of our full scope of Kansas City erosion control services.
 Gordon Energy & Drainage is well versed in area coding requirements. Count on us to get the job done right!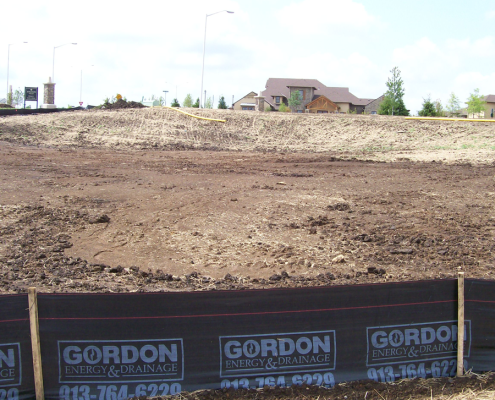 Perimeter Protection
Filtration & Dissipation
Hydroseeding
Hydroseeding is a proven method for establishing blends and mixes of seed. Seed, fertilizer, mulch, soil conditioner, and tackfier are combined with water and placed in our Kansas City hydroseeding equipment. When all ingredients are thoroughly mixed, the slurry is sprayed over the prepared site. A green "mat" covers the newly seeded area.
Drill Seeding
Drill seeding is an agricultural process complete with a tractor and a specialized seeding attachment called a drill. The drill uses a mechanical mechanism to place seed in the soil. The depth of the seed can be regulated as well as the rate of application.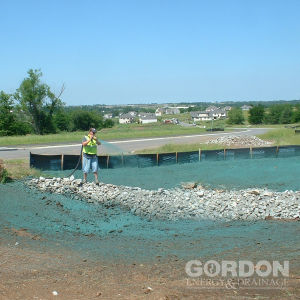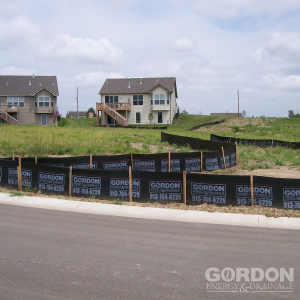 Silt Fencing
Silt Fence prevents the flow of sediment from a construction site from entering natural drainage or storm drainage systems by slowing the runoff.
Silt Fence is the most commonly accepted and used form of erosion control in the Kansas City area. This is a very cost effective way to meet area erosion control standards.
Gordon Energy and Drainage uses a high-quality, custom made silt fence. Staked with 2" x 2" hardwoods, the  fabric is a heavy weight 90 gram material, designed to resist tearing from water and wind. Gordon's Silt Fence is installed using a trenched or slit/plowed method depending on the city's requirements and builder preferences.
Additional options such as wire-backed silt fences are available upon request to meet specific engineering specs or if high flow rates are expected.
Straw Wattles
Straw wattles are another erosion control product that may be a good choice for certain applications. Wattles are often used near streets and in medians, but some builders (where code allows) use them instead of silt fence on residential lots.
Wattles do not hold back as much sediment as a silt fence, but are effective for minor slopes. The main benefit behind straw wattles is that they can be broken up and spread out on the ground when their job is done whereas silt fencing has to be picked up and thrown away.
Gordon Energy uses a weed free wheat straw, wrapped in a polypropylene strand netting mesh, tied on both ends. Their lower profile allows them to be less susceptible to wind damage & traffic damage.
They are staked with 1"x1"x18" wood stakes at approximately 4 feet on center. This lower profile also does not restrict visibility for drivers as much as silt fence.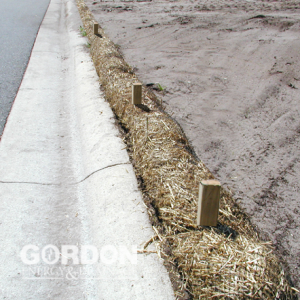 Erosion Matting / Blankets
Erosion Control Blankets or Matting are used to quickly vegetate an area and at the same time stabilize the soil. Usually erosion control matting is installed along with grass seed and fertilizer to promote this vegetation. Erosion blankets generally have 3 main categories based on the product lifespan, stabilization slope & expected water velocity. Temporary, Long Term and Permanent or Turf Reinforcement Mats (TRM's) – Gordon Energy & Drainage is able to provide a variety to types to meet your needs.
There are hundreds of different kinds of erosion control blankets. Many are considered equivalents and with your or the engineers approval can be substituted. Using equivalents is good a way to save considerable money, but still getting the same Kansas City erosion control specs. We are familiar with all of the matting equivalent products.

Ditch Checks, Rock Checks & Triangular Silt Dykes
Rock checks or Dam checks are installed in areas where there is the potential for very high water flow rates and the threat of severe erosion.
Gordon Energy uses very large and heavy rock build these checks. They are often installed in multiple tiers to slow down the flow of water. Rock checks, triangular silt dykes or even well positioned and installed silt fence are generally better erosion control methods for the heavy flow rates of ditches.
We do still offer hay bales as ditch checks, but this practice is quickly losing popularity. The EPA and other Erosion control organizations have been discouraging or banning the use of hay bales for most erosion control Best Management Practice as they can break apart and clog up proper water flow.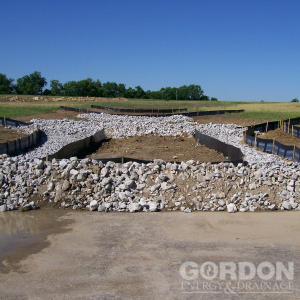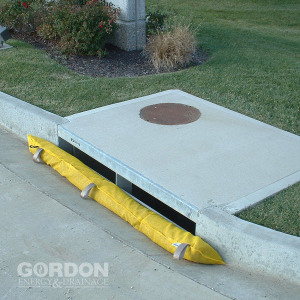 Storm Inlet Protection
Protection of storm water inlets is closely monitored and failure to protect these will quickly get you a warning or fine by the EPA. Our most popular product for protecting storm sewers is our Heavy Weight Mulch Bag. This is a product exclusively designed by our team and created in response to needs we were seeing in the field.
 Street Cleaning
Included with our contracted erosion control installations, we will clean up any mud or dirt debris in the surrounding roadway. The street cleaning service is also available upon requests. For more extensive street cleaning jobs we also have angle brooms and street sweepers available.
Professional Erosion Control Services
We have certified inspectors and Storm Water Pollution Prevention Plan (SWPPP) preparers. These employees have the knowledge and experience to help you manage an effective erosion control plan. We are always aware of the costs involved and will try to minimize these. We also know the top issues and key areas of concerns Kansas City area erosion control inspectors look for.
Kansas City Area Erosion Control Reference Resources
The absence of or poorly installed erosion control can result in heavy fines from government agencies. In addition to potential fines you can incur costly clean up fees.
Partner with Gordon Energy & Drainage to meet your Erosion Control Needs.