In this article, we'll address leaks in foundation walls. We will not be addressing structural repairs in this blog. But, if you just want to learn about keeping those wall cracks from leaking into your basement, then read on!
There are 3 common options that you can consider if you have a crack in your foundation wall that is leaking.
INJECTION — done from the inside of your basement
EXTERIOR WATERPROOF – done from the outside of your basement
INTERIOR WATER COLLECTION SYSTEM
We have listed the 3 options above in order from most commonly chosen to the least, based on our experience fixing over 100,000 cracks in the Kansas City metro area.
1. INJECTIONS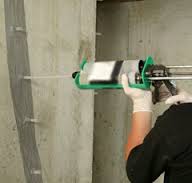 Not all foundation wall cracks are the same, so there are different types of materials that can be injected into the cracks. We can help you decide which product is best. The 2 most common materials used to inject cracks are:
Polyurethane Injection
Polyurethane is flexible liquid material that dries inside the crack in a rubber-like way. Urethanes will not provide any structural support for the foundation, but are good because the material can expand some if the crack continues to grow. It can be used on cracks that are actively leaking. Urethanes are the most common and preferred option for injecting cracks when keeping them from leaking is the primary concern.
Epoxy Injection
Epoxy injections are used when a crack has some structural concerns. Epoxy is injected as a liquid, but dries in the crack very hard. In fact, once it is dried, it will bond the crack together so well that it is actually stronger than a solid wall. The negative to this is that if the area where the crack is continuing to settle, a new crack could form in a different location because the epoxy is that strong.
COST TO PROFESSIONALLY INJECT : About $ 50 – $ 65 per lineal foot
Injections are not considered to be a permanent repair. They can be permanent, if the crack does not move too much more after the date of repair.
2. EXTERIOR WATERPROOF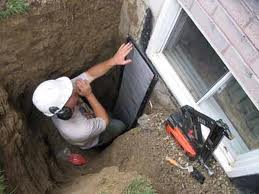 Putting a waterproofing product on the outside of your foundation wall is a very good option to keeping a crack dry permanently. The process consists of:
Digging away the dirt and exposing the entire crack top to bottom
Clean the wall
 Apply a high quality rubberized waterproofing membrane & drain board over the crack.
Backfill
Because we use such a high quality waterproofing product, if the crack should continue to grow after it is repaired, the waterproofing will expand with it.
COST TO WATERPROOF 1 CRACK ON EXTERIOR: $ 500 – $ 1,400
(depending on height of crack & obstacles in the way on outside of home)
3. INTERIOR WATER COLLECTION SYSTEM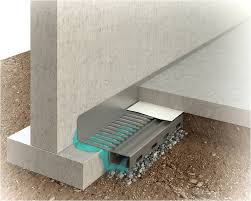 An interior water collection system is a defeatist approach to solving your leak issues, but it works to keep your floor dry. The concept here is to let the walls leak, but to capture the water at the base of the wall.
The process consists of:
Break out and remove about 12″ of concrete floor (next to your wall)
Install a collection system that takes water that runs down your wall into a drain tile under your basement floor.
Install new concrete in the same area where it was removed
This method is typically chosen when there are numerous cracks or other significant leaks in a wall, or when it is too cost prohibitive to dig up the exterior of the home due to obstacles such as driveways, sidewalks, utilities, fences, or landscaping.
COST TO INSTALL INTERIOR DRAINAGE SYSTEM: $ 50 – $ 70 PER FOOT
If you have any type of leaks in your wall, we have given you 3 viable options on how to create a repair plan that meets your needs.
All of the costs listed above are approximate and based on having a professional do the work. You can pay much less if you opt to do the work yourself as a do it yourself project.